Psychic Reader Summer
PIN: 2112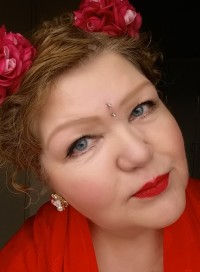 Summer uses clairaudient and clairsentient gifts, she is also a talented medium and a highly insightful empath. She first used her gift aged four. Naturally, she can't remember it clearly, however, her mother certainly does!
It was the early hours of the morning and Summer was sitting in the darkness at the top of the stairs, in her maternal grandparents' home. Much earlier that day, her maternal grandfather (Papa), had passed over to spirit. As a family, Summer's parents had decided that they and her siblings would all stay over with gran that night. Summer's Mum, woke to the sound of her middle daughter, chatting away in the background. As her Mum quietly opened the bedroom door, she observed Summer, deep in conversation with 'thin air'. However, it soon became clear, that Summer was having a two-way conversation with her Papa, who was actually laid out in a downstairs room.
Summer's Mum recalls how Summer was quoting information such as Papa's childhood address and the name of his first employer's boss. This was Papa's way of bringing validation and comfort to Summer's Mum, as she wrestled with her grief.
The two-way conversation continued for a few more minutes and poignantly ended with Summer asking Papa a question, "Do they have carpets in heaven?" Summer waited for a response, then said in reply, "Because you've left your slippers behind." Out of the mouths of babes!
Summer totally adores giving readings, everything about it - communication, making new acquaintances and giving her all to make a difference. Summer has trained in many areas that assist other people with their problems and life journeys, for example she is a Reiki Master Healer and Teacher. A person-centred counsellor and an NLP practitioner. For many years, Summer has also been teaching mindfulness workshops, these combined therapies have made a major impact on her life and have brought many positive changes to her clients.
Alongside her spirit guide and angelic helpers, she can bring forward Spirits energy to provide comforting messages of departed loved ones. As a profoundly spiritual person, you can rely on Summer to provide you with an encouraging and thought-provoking reading. She really wants to assist you in your path to understanding your thoughts and feelings in a more in-depth manner, that will bring happiness and peace into your life.
In a nutshell Summer considers it to be a privilege to be able to guide clients on their relationships, life and more, why not let her pass on to you what she senses, sees and hears.