Psychic Reader Chrystalyte
Astrologer/Email Reader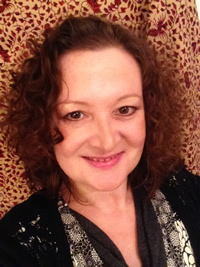 Chrystalyte specialises in psychic or astrological email readings. You can read more about her below; when you are ready to purchase your email reading - please click here.
Chrystalyte aims to bring integrity to her readings, whilst treating clients with respect and compassion. Chrystalyte's specialities are tarot and astrology, subjects in which she is also a personal tutor and mentor.
She first began working in the media as a writer of horoscopes and tarot services in London. Alongside national syndication of her written content, she pursued a passion for the esoteric world, undertaking formal study in astrology and practicing psychic attunement and an intuitive way of reading tarot cards.
Her work has regularly featured on radio programmes and been widely distributed in the national and regional press, including The Observer and Manchester Evening News and niche glossy magazines, such as the 5 star hotel-spa title Spa World and Easy Jet's in-flight magazine.
Chrystalyte is a founder member and ongoing contributor to TABI, the Tarot Association of the British Isles. This has opened the door to countless opportunities for new readers to come into the world of tarot, with a modern understanding of this ancient art.
Chrystalyte's ongoing personal and professional efforts are aimed at the same goal: to support the idea of a healthy mind, body and spirit. She has a rare ability to get to the heart of a problem, whilst providing a sense of calm when dealing with sensitive and critical issues. Her attitude is sufficiently young and vibrant to share excitement, enthusiasm and inspiration for new ventures whilst being mature enough to tap into the wisdom and reality in any situation.
I just wanted to say thank you for my reading. It was very informative and answered a lot of questions, and you gave positive answers and times, which I felt before you gave them. So thank you once again for your kindness. Love and Light
Faith
Thank you so much; your reading was very perceptive. Where you talk about the link from Jupiter to the planet Mercury, in the sign of Pisces – and later on about the tremendous sensitivity as another side – I felt stunned and a strange sense of relief. These paragraphs are an exact description…Many aspects of my life now fall completely into place! Other aspects of your reading ring an instant bell! I am grateful for the work you have put into this reading and I will take it all on board.
Hilary