Love and Light Newsletter
The Circle Newsletter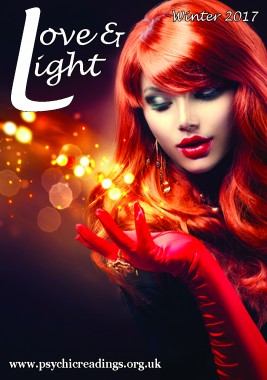 From time to time we like to send out a newsletter called Love & Light or promotional offers to our loyal clients. If you would like to receive such information, then please provide your details below and you will be added to our database (you can opt out at any time), by emailing us at [email protected] If you don't want to subscribe then you can visit this page regularly and download the latest publication - see the latest downloads that are available below.
We know that are clients are interested in the psychic world and so we try to provide interesting content in our newsletters and our blog. It can be expensive to buy psychic genre magazines and so we provide this content free of charge. In this day and age we know many people prefer to get information by email, so if you subscribe we will send you an email when the latest publication is ready and you can download it on your computer, tablet or phone - whatever suits you. But equally we know that not everyone is technology minded, and some people still like to feel a newsletter in their hands, and so for this reason we are one of the few companies that still offer a postal option. There is an unsubscribe facility on the emails, so if at any time you no longer wish to receive them - just click on the link. If you receive the postal version and want to update your address following a house move or no longer wish to subscribe, then just let us know at [email protected] or Circle of Professional Clairvoyants, PO Box 9113, Bournemouth, BH1 9DH.
Subscribe To Our Newsletter
Postal Delivery
Email Delivery
Never miss an issue! Enter your details below to subscribe to our mailing list and receive our newsletter directly to your email inbox.
Latest Downloads