Psychic Reader Hayley
PIN: 6363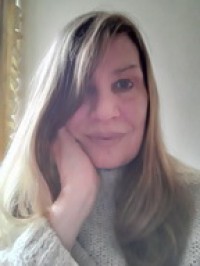 Delving into the spirit world and bringing forth insights and wisdom is a gift and an honour Hayley treasures. She felt and sensed from an early age; but it wasn't until she was gifted some Tarot cards aged twelve, that she started to delve deeper and make sense of her experiences in the spirit world.
Knowing our earthbound existence is only a tiny slice of the pie created a lifelong fascination with the unknown world beyond the veil. The difference between the manifest and unmanifest and how our choices and actions co-create our own very unique and individual path through the wilderness.
When connecting with a querent, Hayley tunes into their voice vibration, senses their energy. She rides on the breath and feels the keys to the universe unlocking a doorway inside her, where the inner-eye opens to reveal the mysteries from the other side.
Hayley can go to a place and access a flow of feelings, impressions and visions from an unknown landscape, that transcends the laws of time and physics as we know them. It feels like being taken on a journey to another dimension as the information flows into and through her, no two experiences ever being the same!
As well as direct experience of Spirit, Hayley may use Tarot cards, crystals, a scrying bowl or a pendulum to assist her navigating the journey. Her skills and these tools reveal the wisdom that is always trying to come forth and lighten the pathway of the human experience.
Experiences of working in education and journalism, motherhood, travelling and love of different cultures and literature have added to the richness of life. Though for Hayley it is always being in nature that soothes her soul and recaptures the awe and wonder of childhood that she loves so much.